Vancouver activists say "Free the Five!"
Feb. 25, 2008
Reprinted from Free the Cuban Five - Vancouver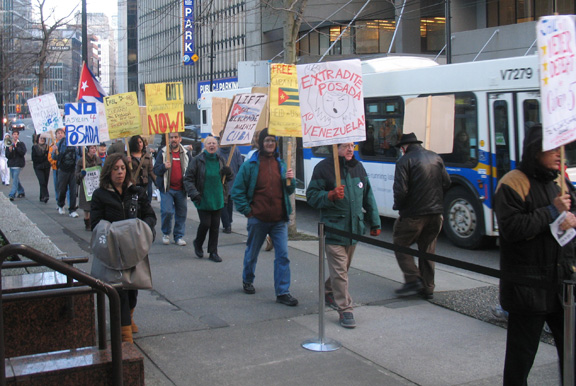 Vancouver Shouts Out Loud and Clear: Now's the Time to Free the 5ive!
On Tuesday February 19th for the 26th time activists and peace loving people came together at the U.S. Consulate for an enthusiastic protest to demand freedom for their 5ive Revolutionary Cuban Heroes held in U.S. jails. Over 30 people participated in the action that got to hear from a great lineup of speakers.
David Whittlesey, a participant in the Civil Rights movement in the U.S. opened up the protest announcing Fidel's decision to not except nomination to be president again and the U.S. government's declaration that they will continue use of the blockade in its attempt to strangle Cuba. David ended his talk by saying, "You know what the U.S. wants to do with Cuba? Make another 'democracy' like Iraq or Afghanistan."
The next speaker was Esteban Gonzalez Arteaga an organizer with Vancouver Communities in Solidarity with Cuba (VCSC) who highlighted the ongoing campaigns of VCSC collecting signatures to end the U.S. Blockade against Cuba and supporting the gains of the Cuban Revolution.
Janine Solanki spoke next as a Co-chair of Mobilization Against War & Occupation (MAWO) and organizer with the International Women's Day Committee. Janine spoke about the wives and family members of the 5ive being denied Visas by the U.S. government and spoke of the launching of a new campaign to collect signatures from 100 women in as many cities as possible across Canada, Quebec and the U.S. demanding visitation rights for family members of the 5ive.
The last and guest speaker of the day was John Waller, Coordinator of the Pastors for Peace Caravan to Cuba. John spoke about the growth he has seen in the last couple of years in the movement to free the 5ive including huge media coverage. He emphasized that the freedom of the 5ive depends on the solidarity movement to pressure the U.S. government to reverse their campaign against the 5ive and set them free.
Between speakers there was loud, energetic chanting of "We fight, we fight for dignity! The Cuban 5ive will be free!" and "I say free the, you say 5ive!"
Picket MC and Free the Cuban 5 Committee- Vancouver coordinator, Noah Fine concluded the picket by re-stating that their will be a protest every month in Vancouver until the 5ive are free and at home with their families.
For more photos click here
To learn more about the Vancouver committee, click here