Picketing at U.S. Consulate in Vancouver continues in 2008
by Noah Fine
Jan. 17, 2008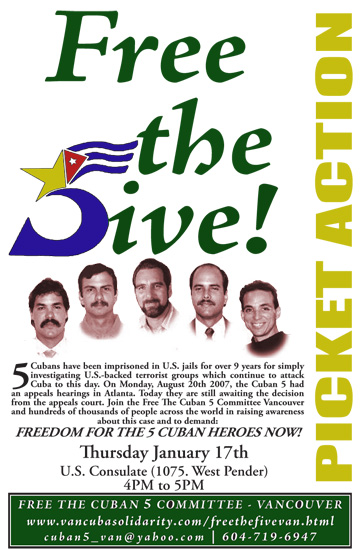 On Thursday January 17th 2008, over 25 people gathered again for an exciting protest at the US Consulate in Vancouver to demand the release of the 5 revolutionary Cuban Heroes. This first protest of 2008 kicked off a new year of fighting for liberation of the 5ive.
Chants of protest were heard loud and clear as participants listened to great speeches by supporters of the Cuban 5. Mike Larson, coordinator of the Free the Cuban 5 campaign at Capilano College, delivered the story of the 5 and the US-sponsored terrorism they were trying to prevent. David Whittlesey, a veteran of the Civil Rights Movement in the US, a supporter of Cuba and Co-chair of the Alison Bodine Defence Committee – ABDC (http://alisonbodine.blogspot.com) spoke next, relating the case of Alison Bodine, a young anti-war and Cuba solidarity activist who was targeted by Canada Border Services Agency and banned from Canada, to the case of the 5 Heroes. He explained that Alison and the 5 are all people targeted for their work in defending humanity.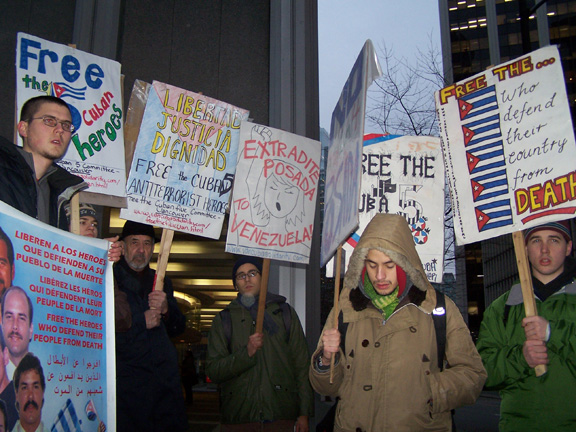 After some enthusiastic marching and chanting to warm up from the freezing temperature, the protest heard Janine Solanki, Co-chair of Mobilization Against War & Occupation - MAWO speak about the lies of the US "War on Terror" and the importance of the anti-war movement supporting the real anti-terrorists, the Cuban 5. Max Tennant, an organizer with Vancouver Communities in Solidarity with Cuba - VCSC and participant on the 2007 Pastors for Peace Caravan to Cuba spoke about the cruelty of the US blockade on Cuba and the inspiring struggle that the people of Cuba that the 5 are defending.
The picket was wrapped up by MC and Free the Cuban 5 Committee-Vancouver coordinator, Noah Fine. Noah reminded people of the two years of protesting monthly that has taken place in Vancouver and the work of over 300 committees worldwide demanding freedom for the 5. He concluded by informing the participants about the "Day After" Campaign, a call by the Cuban 5 solidarity movement to organize actions upon the release of the decision of the latest hearing of the Cuban 5. The hearing, which took place on August 20th, 2007, dealt with in particular the charge of "Conspiracy to Commit Murder" laid against one of the 5, Gerardo Hernandez. Peace and justice-loving people should be prepared for the release of the hearing's decision and be ready to come to the streets the day after and take part in a lineup of events to follow as part of an international campaign of action.
FREE THE CUBAN 5 NOW! VOLVERAN!